What did we do for Bastille Day?
Greetings, loyal minions. Your Maximum Leader has found himself a little time to waste and he's decided to blog. For the past year or so when he's had free time to waste he's indulged in reading/watching TV/sleeping; but now he's going to blog some.
You probably aren't asking yourself, "Self? I wonder what my Maximum Leader was doing on Bastille Day this year." Well, you probably should be asking yourself that if you plan on reading further.
(NB: This is one of the many blog posts your Maximum Leader composes in his head fully intending to write it out and post it. What makes this one different is that he is actually writing it out.)
Around July 8th your Maximum Leader realized that something was up in his fair town. At first he wasn't able to put his finger on it; but then he realized what was up. His town was festooned with French flags. Yes, tricolors were everywhere. Really. They were. Here is photographic proof: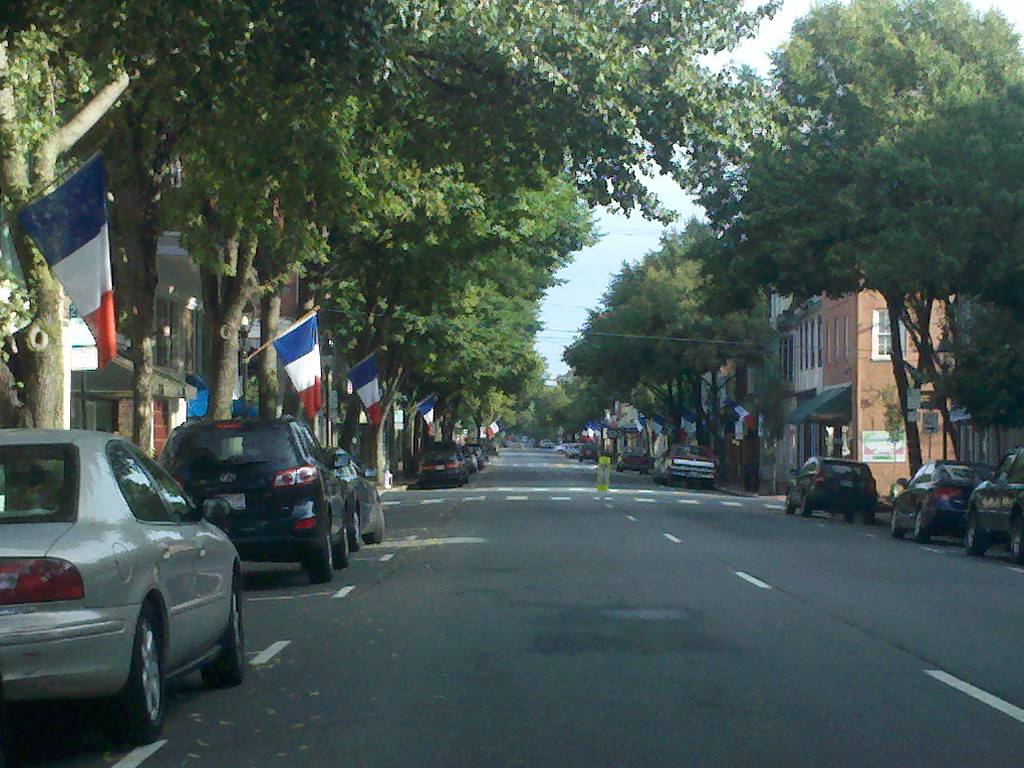 If you didn't know, and really there is no reason for you to know, Fredericksburg, VA (your Maximum Leader's home town) has a sister city. That sister city is Frejus, France. Your Maximum Leader found that Frejus has a web site. You can clicky on this linky to go to the French language Frejus site. So in the spirit of fraternite we here in Virginia celebrate Bastille Day with our French brethren.
(NB to history nerds: Your Maximum Leader sees that Frejus was founded by none other than Julius Ceasar himself (Forum Julii) and was an important Roman era naval base.)
Of course, when you think of France (in a friendly way and not in the cheese-eating-surrender-monkey way) you think gastronomy and good living. So your Maximum Leader started to think to himself, "What could I do to celebrate Bastille Day?" Well… He thought of a variety of fancy haute-cuisine dishes he could try and make for dinner. But then realizing that he was having this conversation with himself at noon on Bastille Day itself he realized that a highfalutin' dinner was likely out of the question. Then your Maximum Leader realized that provincial French cooking is delicious, hearty and able to be prepared in an afternoon. But what to make? Your Maximum Leader started pulling out his cookbooks to think of something and then he came up with Poulet en Cocotte.
(NB: Your Maximum Leader decided to look up what a cocotte was as he is many years removed from his study of french and he's not remembered what he should. He assumed the cocotte was a piece of crockery that could be used on a fire and in an oven. And in that he is correct. He has now also learned that cocotte is also antiquated slang for a prostitute. He imagines the English word "coquette" is likely related to this origin. Now having learned that a cocotte could also be a prostitute it seems funny to have eaten a dish that could be loosely translated as "Chicken in a Prostitute." Indeed, Chicken in a Prostitute doesn't sound appetizing at all.)
Now there are lots of variations of this traditional dish. So there isn't one particular recipe that your Maximum Leader decided to use. He decided to go with the general technique and enjoy what he got. He also decided to take some photos of his progress with his phone so that he could food blog!
Anyhoo… Here we go.
Your Maximum Leader had pulled out some chicken thighs from the freezer, so that became the poulet for the dish. He also had plenty of his home-cured bacon slabs around. In fact your Maximum Leader had a few slabs of bacon that he had "over cured" (made very very salty in other words) that he'd been using as lardons in many different items he'd been cooking. So he had the protein taken care of. Then he got out a mess of onions, carrots, celery, peppers, and potatoes.
Now generally, Poulet en Cocotte is made with tomatoes as well, but after a quick poll of the Villainettes, the wee Villain and Mrs Villain your Maximum Leader determined he nix the tomatoes in the dish.
So first he prepared his mise en place with the help of Villainette #1. We cleaned, peeled and diced all our veggies and set them aside. Then your Maximum Leader cut his lardons out of the slab bacon and was ready to begin.
First he put the bacon in the pot over medium heat to render the fat.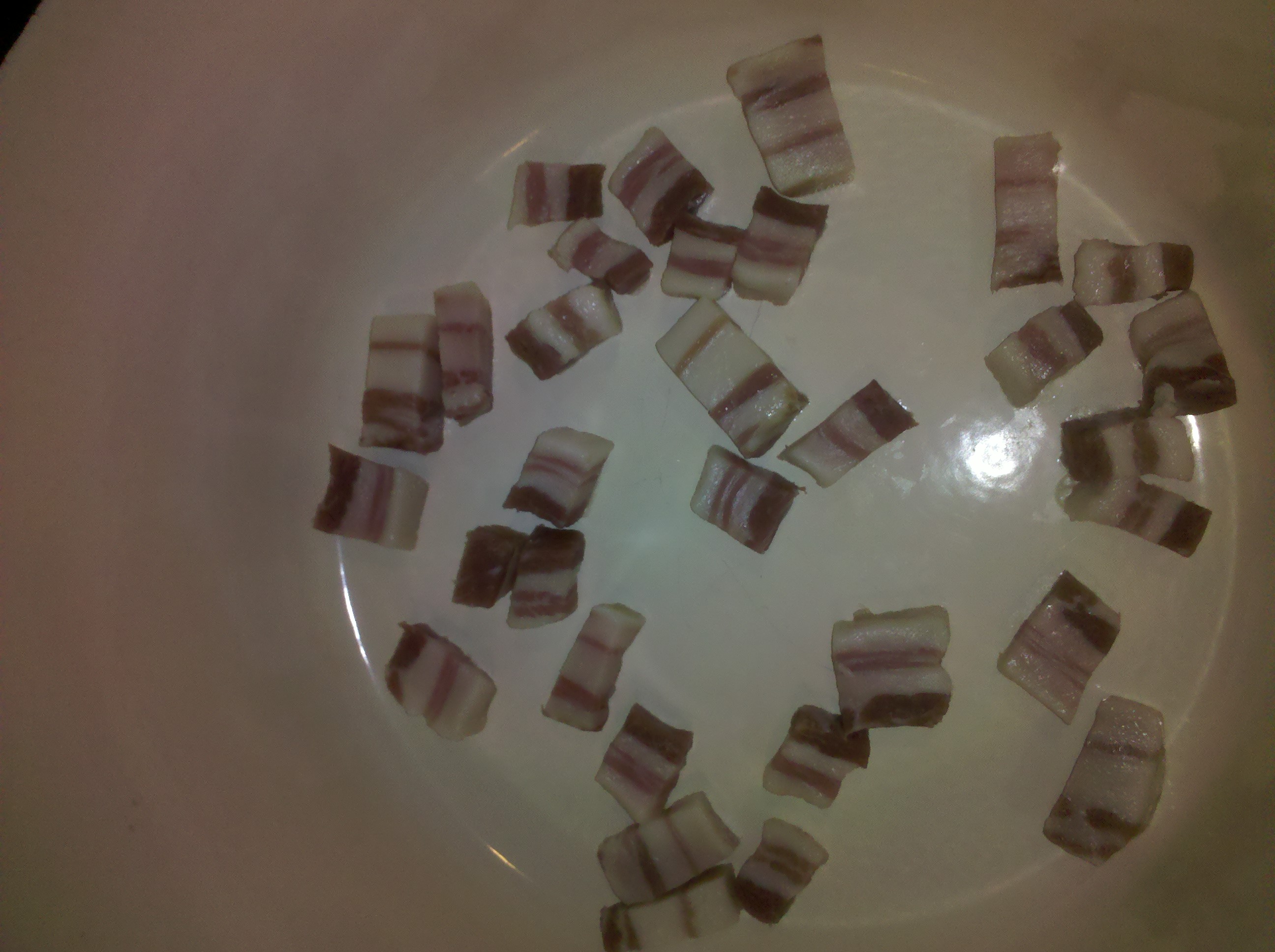 After a little bit the bacon was cooked and there was fat and delicious cooked bits all in the pot.

Your Maximum Leader then removed the bacon and put it aside for later. Then he started to brown the chicken thighs. It is in this photo that you can see the first mistake your Maximum Leader made when preparing this dish. He neglected to dust the chicken with flour before browning. This resulted in the skin not being as brown as he would have liked. It also meant that he had to make up a little roux to add into the broth at the end before baking to thicken up the gravy. This is a rookie mistake that your Maximum Leader should have not made; but it is also an illustration of one of his favorite expressions. Namely, "cooking is an art and baking is a science." Had he made a rookie mistake while baking he would have had to throw out what he'd done and start over. But as he was just cooking, he could adapt later. Anyway, here is the chicken going in.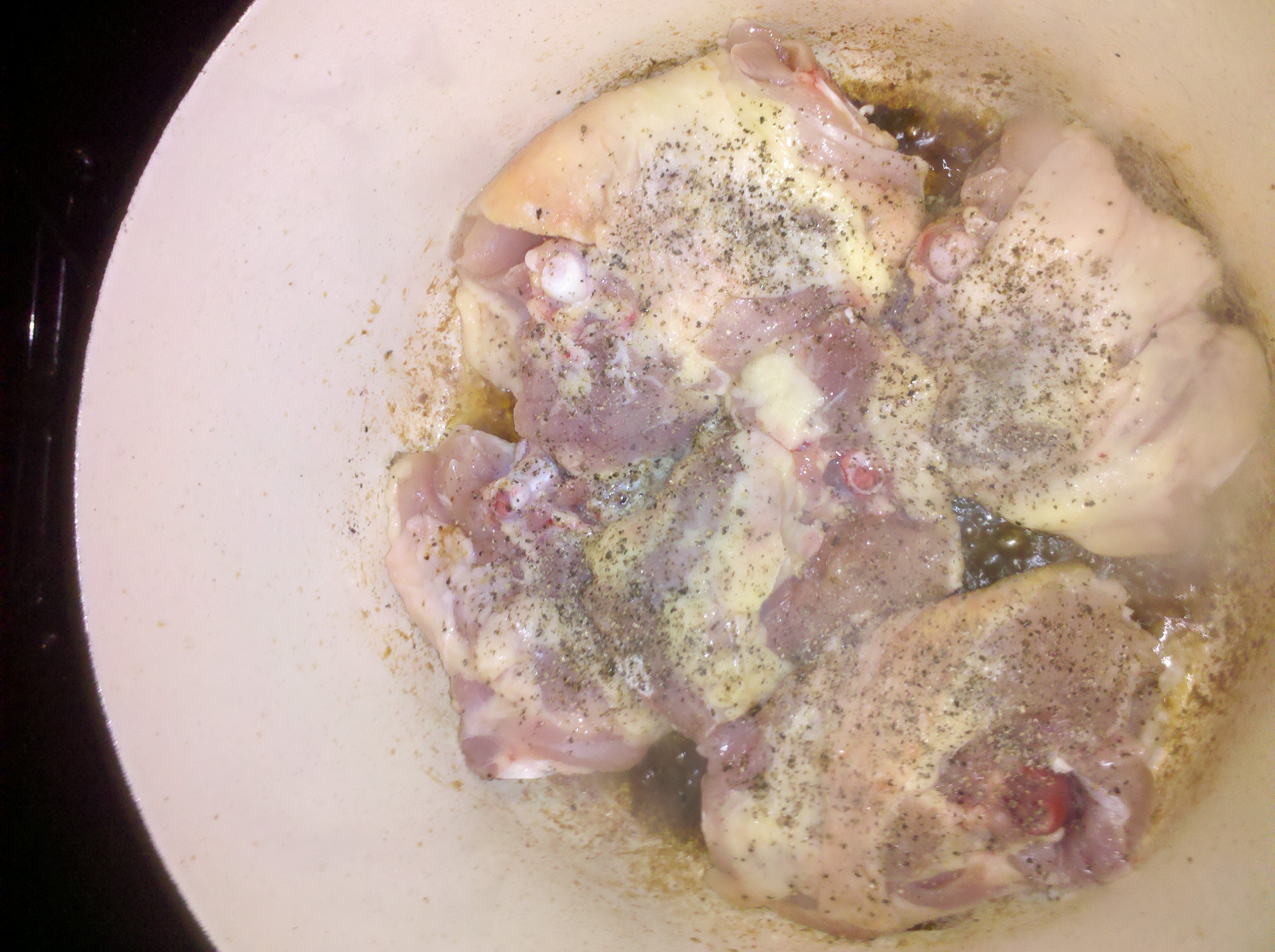 And while your Maximum Leader is fessing up about mistakes… He can also fess up that he crowded the chicken in the pot. He should have done one or two thighs at a time. But he was just throwing together peasant food, so it was all okay. Right? Mais oui!
After browning the chicken on both sides he removed them from the pot and started on the veggies. He first put in the onions. Then came the carrots. Then shortly after the carrots the celery went in. Then the multicolored peppers. These all cooked up nicely. Your Maximum Leader didn't caramelize these much. And in the photo you can see that the caramelization hasn't started. This is another adaptation your Maximum Leader makes for his family. You see, the Wee Villain is 8 years old and prone to call the most delicious caramelized onion a "burned" onion. So, to avoid this your Maximum Leader kept the caramelization down. Anyway… Here is the photo.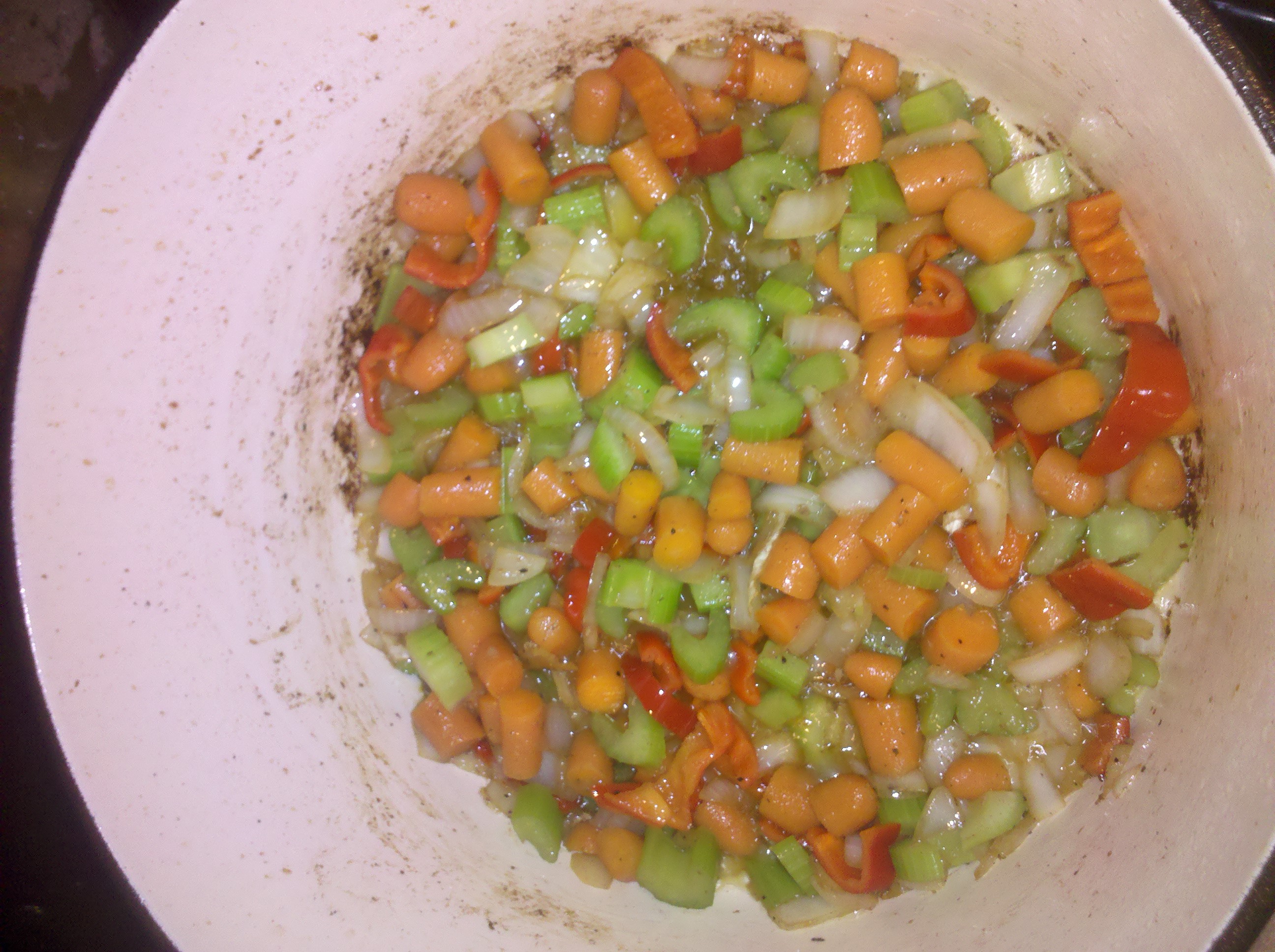 After the veggies seemed to be about right, in went the potatoes. Your Maximum Leader waited until the last minute to add the potatoes because he doesn't like mushy potatoes. And this dish is going to cook for a while in the oven. He didn't want his potatoes too soft.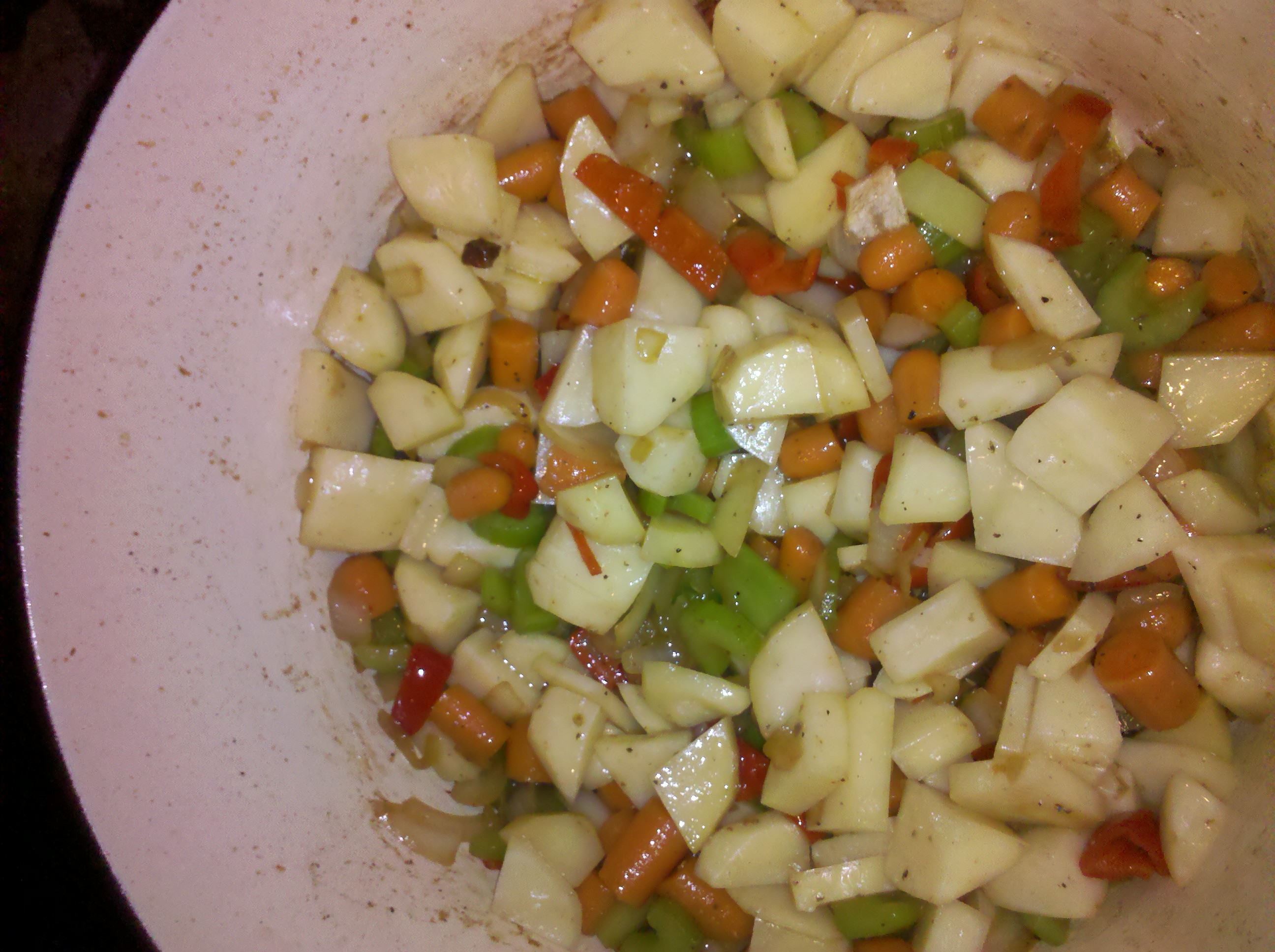 After the potatoes went in and got heated up a little, the bacon went back in.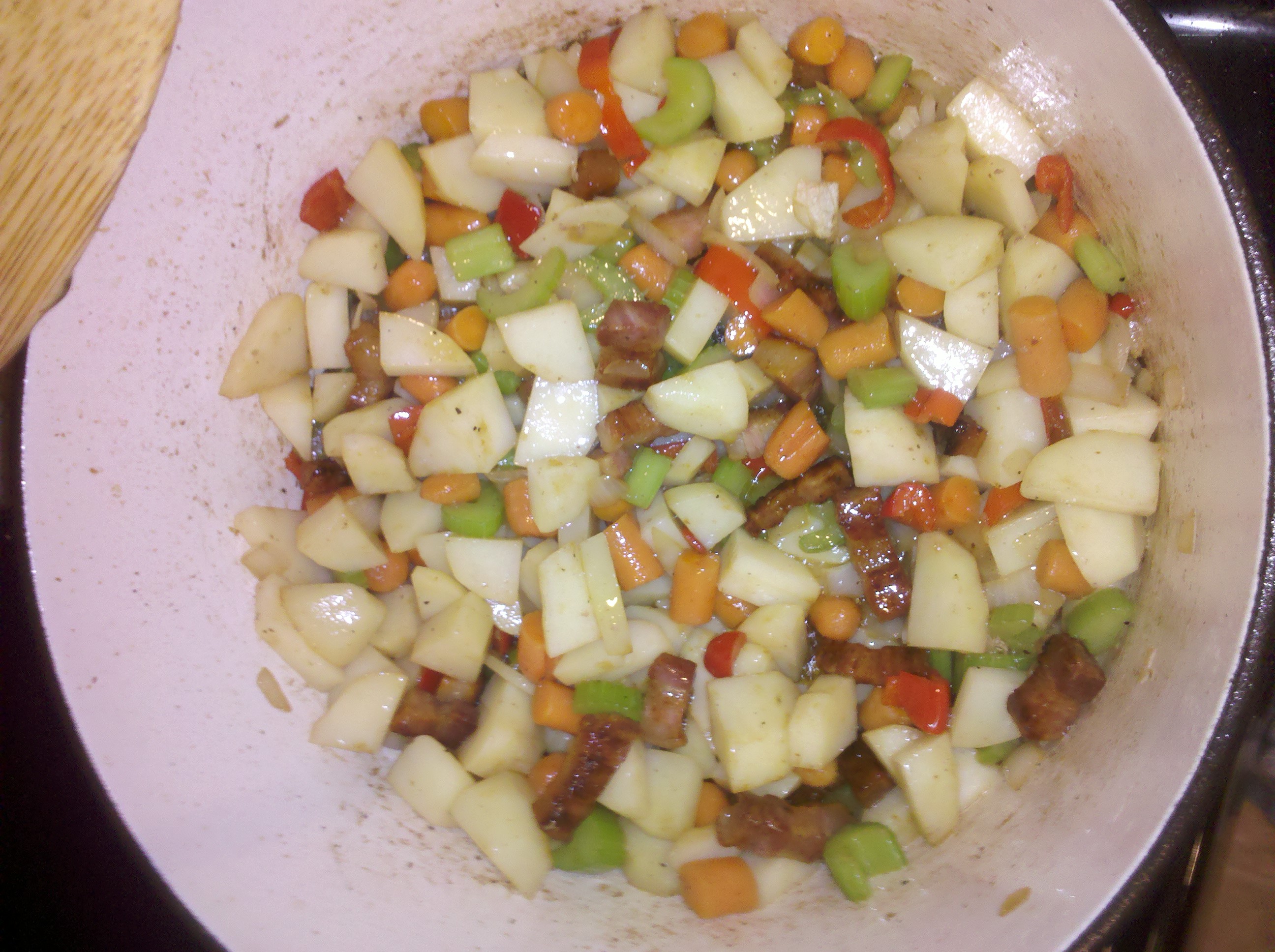 Now, if one was going to have tomatoes in your gravy, this would be the time to add the tomatoes in the mix. But, per the recent poll of the family, no tomatoes were added to the mix. What was added to the mix (in copious amounts) was wine. Your Maximum Leader should explain that he is not a big wine drinker. It is the occasional beer and lots of the hard stuff for him. But he does believe in keeping decent (if inexpensive) wine around for cooking (and drinking). If you wouldn't want to drink a glass (or two) of the wine you damned well don't want to be cooking with it. In this case, the wine was a cheap (but drinkable) California Chardonnay. Your Maximum Leader did have a single bottle of very nice French wine in the cabinet, but it was a rather expensive red that had been given as a gift and your Maximum Leader didn't think it was right to open for drinking since he wouldn't finish the bottle himself. (And Mrs Villain doesn't really drink…)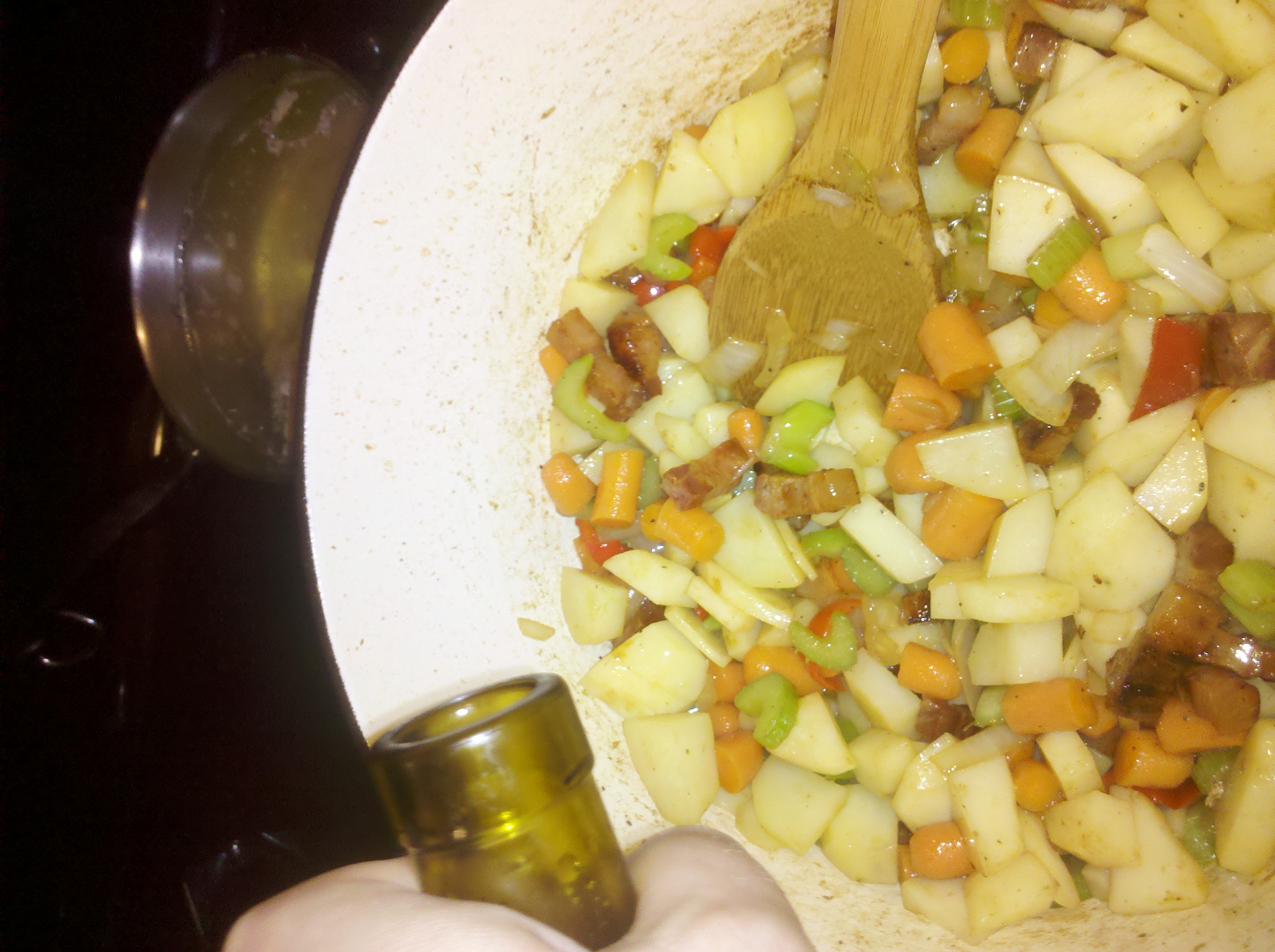 Your Maximum Leader brought everything up to a slow boil then added some additional chicken stock to round out the liquids.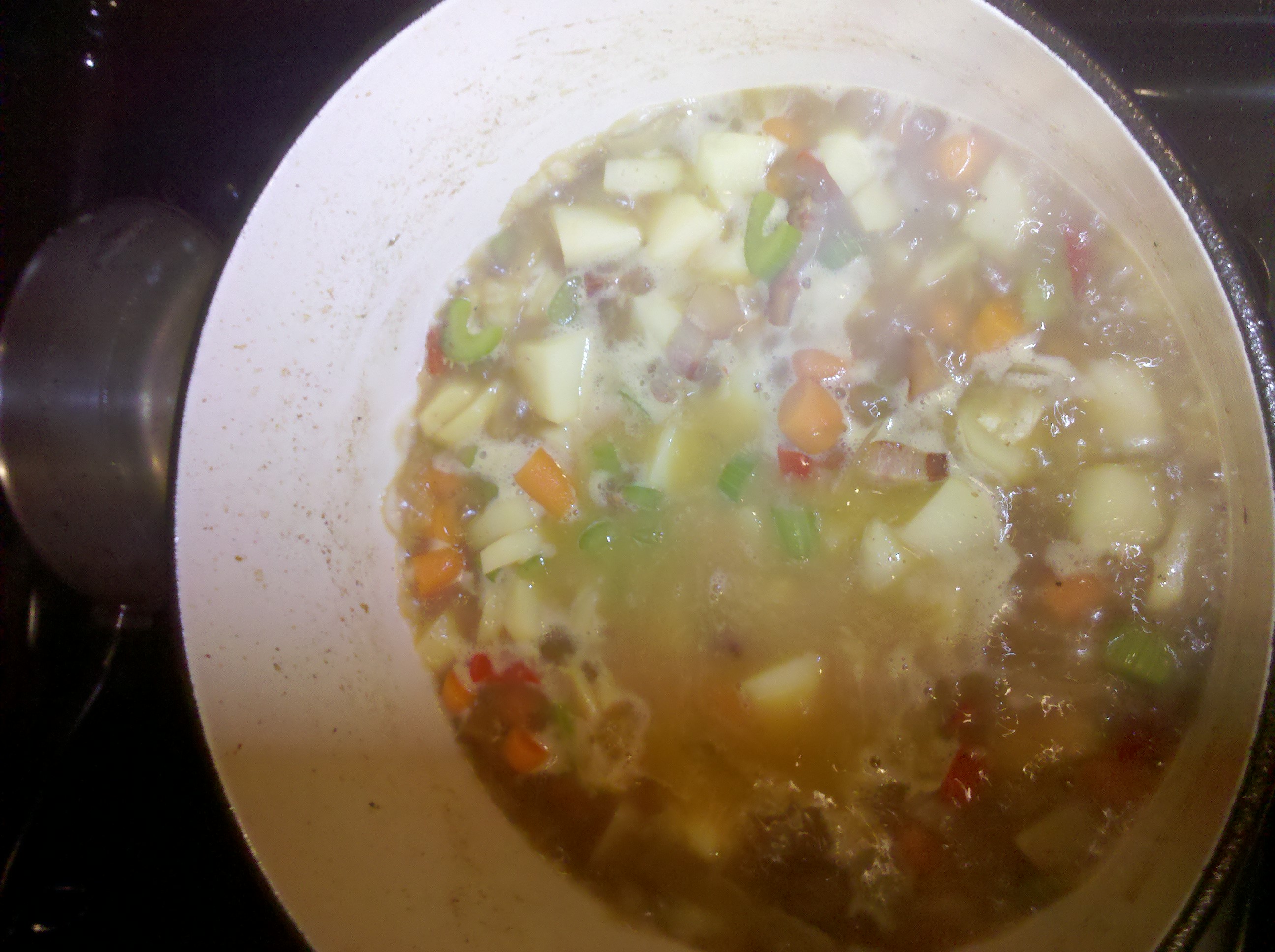 Now here is where your Maximum Leader's photo food blogging went bad. At the moment he was ready to add the chicken back into the pot he realized that he'd forgotten to flour the chicken. So he quickly made his roux and mixed it in and brought the heat back up. Then he added the chicken to the pot. He was going to take photos of these two events, but Mrs Villain needed to make a call on his phone so it was not available to photos.
You must accept as read that the roux was made, the chicken added back to the pot and the whole business was covered and put into a 350 oven to finish off. The Poulet was in the oven about and hour and fifteen minutes. It probably only needed an hour, but your Maximum Leader was getting distracted by a game of Medieval Total War 2 and lost track of the time. Thankfully with a dish like this, a few extra minutes doesn't hurt the result. And the result looked like this: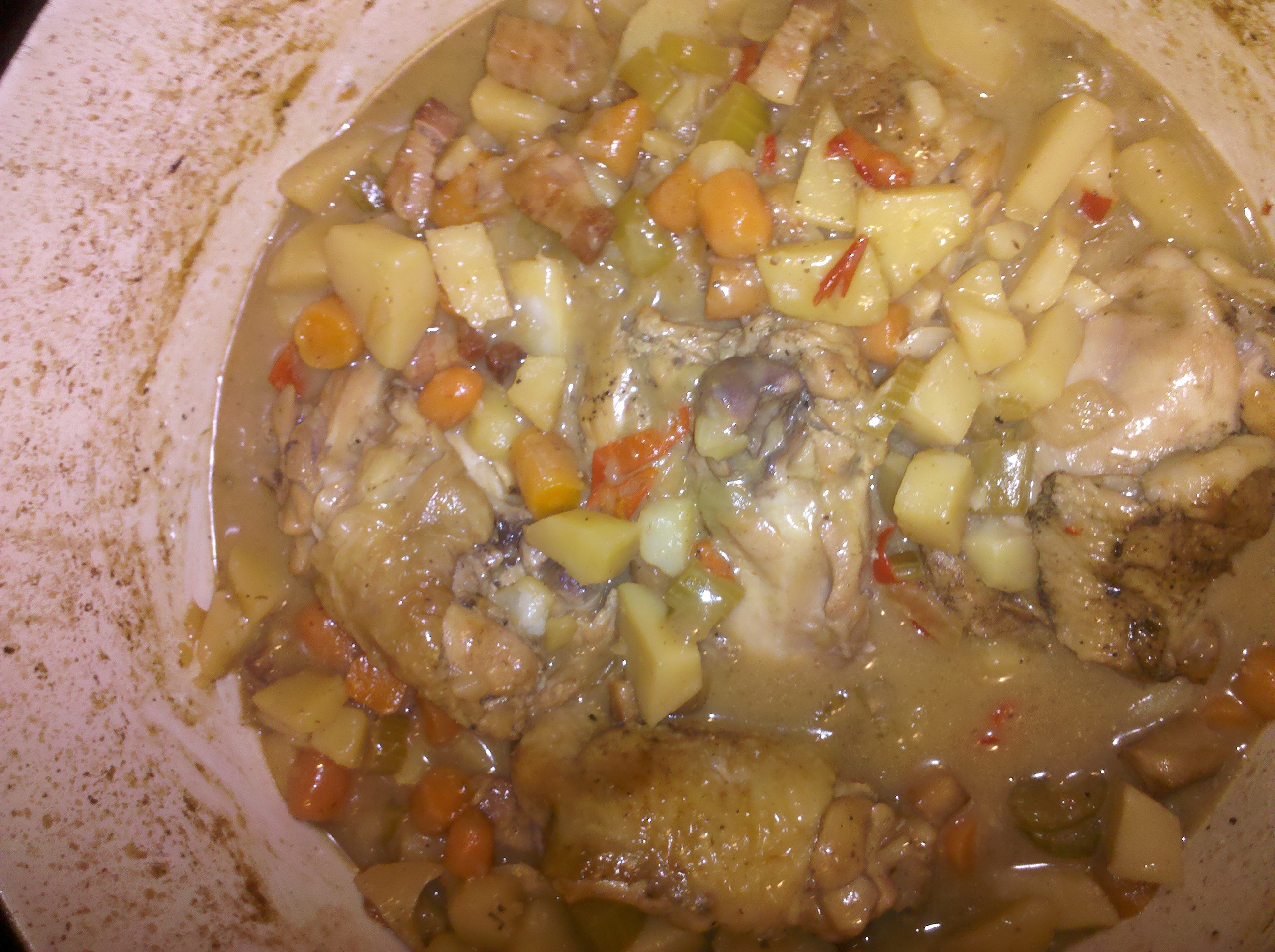 Your Maximum Leader wishes he'd taken a photo of the chicken on the plate, but he forgot. He is pleased to report that everyone loved the Poulet en Cocotte and he had no leftovers. The only thing that could have improved the meal would have been someone there to drink some French wine with.
(NB to readers: Indeed, your Maximum Leader was eating his dinner and his mind wandered to his college days. He shared a political science class or two with a charming young French woman who was studying abroad for a year. Her name was Karin. She was smart, witty, totally charming and a blast to hang out with. Sadly for me in those more superficial days, she was very plain looking. (Not that it really mattered much because your Maximum Leader was dating someone else altogether.) But he did recall when Karin's best friend Veronique came to visit her. Veronique was anything but plain. As a matter of fact, the very act of remembering her sends a thrill through your Maximum Leader' groin. Sadly, it was hard to judge if Veronique as a witty, smart and charming as was Karin. Veronique's English was almost as bad as my French. But we were able to communicate a little bit. In fact, the most useful bit of information I was able to give Veronique was that she needed to buy a new bathing suit because the small scrap of cloth that would barely cover her nether region would get her arrested for indecent exposure at the beaches in Virginia and North Carolina that she and Karin were going to visit. Anyhooo… Your Maximum Leader gave brief thought to Karin and Veronique while eating dinner on Bastille Day. And that is a good way to celebrate the day.)
Carry on.