Old Nick
Greetings, loyal minions. Your Maximum Leader wants to say something right up front here. Fellow blogger Mark, of Witnit.org, rocks! Mark totally rocks!
Now, why you may ask does your Maximum Leader shower Mark with such praise on this day? Well… Not only is Mark having the coolest holiday week ever by going (with Mrs Witnit) to Florence, Italy for some quality time; but he remembered a modest request made my your Maximum Leader many moons ago. Back in June/July when Mark was planning his trip, your Maximum Leader made some sightseeing and dining suggestions. At the time your Maximum Leader asked if Mark would make a visit to your Maximum Leader's favorite son of Florence's grave and pay some respects to him.
And Mark, bless his little cotton socks, remembered your Maximum Leader's request. Photographic evidence of this follows…
Gentle readers… Thanks to Mark, here is the grave of Niccolo Machiavelli with a rose of tribute from your Maximum Leader via Mark and his lovely wife.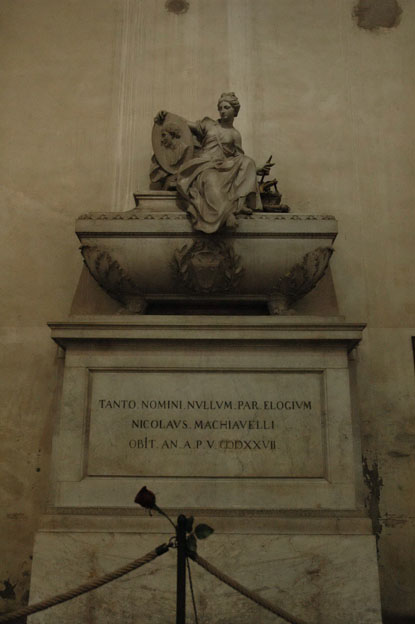 And for those of you who aren't into the whole photo-of-Machiavelli's-grave-thingie, here is another image (with the same rose by the way) for you. This time it is a statue of Machiavelli found outside the Uffizi museum.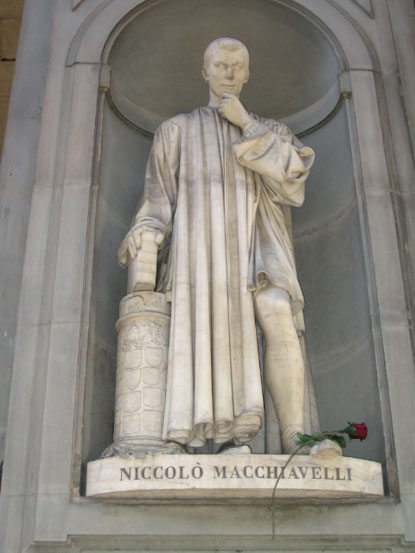 NB: Did you know that there is a school of etymology that believes that the work "office" in English is derived from "uffizi" in Italian? You see, the Medici's organized the Florentine government during the Renaissance into a number of departments. One could say that the Medicis introduced the first "modern" bureaucracy to the West. (Bureaucracy had long existed in China after all.) The Medicis discovered that their growing bureaucracy needed office space. So the family purchased the Uffizi palace in Florence to house their growing bureaucratic ranks. Thus, if you were a Renaissance Florentine Bureaucrat working for the Medicis it was likely that you would walk every day to work at your office in the Uffizi. Not bad digs for a government employee.
Many thanks to you Mark for these pictures. Your Maximum Leader is very grateful.
And for the ladies! Check out Mark's recent post about "art" in Florence. The post title should clue you in as to the type of art Mrs Witnit was looking at while vacationing…
Carry on.