Vapor Locked
Greetings, loyal minions. Your Maximum Leader is still "vapor locked" as Joan mentioned in a comment on the last post. That is a very a propos way of phrasing it. Your Maximum Leader is just locked up and can't seem to focus enough on a subject to write anything pithy. Somehow this condition doesn't seem to have stopped him over the past few months when he was still able to write, although he was unable to be pithy. Perhaps your Maximum Leader's conscience (such as it is) was bothering him. Bothering him to stop writing crap and start writing some good stuff…
Alas, this post will not be full of good stuff…
Last night your Maximum Leader didn't think of anything to write, but he did do something fun. To wit this photo: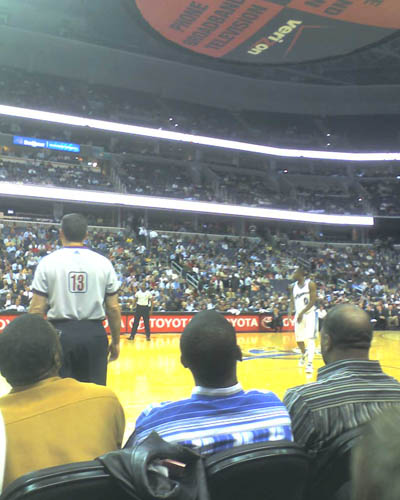 That is Gilbert Arenas (aka: Agent Zero) after passing the ball to Caron Butler late in the second quarter of the Washington Bullets' eventual 103-90 win over the lackluster Indiana Pacers.
Yes. Your Maximum Leader is sitting on the floor. He was in the third row to be exact. Very close to the action. If your Maximum Leader does say so, those seats are the bomb. You have attendants coming to bring you drinks and food throughout the game (still at overpriced stadia rates plus tip - but you don't have to mingle if you don't want to). You have access to the VIP lounge under the stands and just off the floor for cocktails and snacks before, during, and after the game if you like. It is quite nice. You are so close that you can interact with the players (alas your Maximum Leader is not a big smack-talker so his comments were mostly encouraging his team on to victory). You are also close enough to see the cameltoe, boob-job scars, and caked makeup on the dance team. Sadly the dance team for the Bullets leaves much to be desired. Your Maximum Leader found precisely two of the roughly 15 girls on the team attractive - and one of those two was sorta marginal.
Before the game your Maximum Leader had a fine dinner at Matchbox. He recommends it to you all. Sadly, your Maximum Leader's photo of another eating establishment didn't turn out. It was a photo of the "New Big Wong" restaurant. "NBW" is right around the corner from the Verizon Center in what passes for Chinatown in Washington DC. This particular restaurant is the successor to "Big Wong" restaurant. As your Maximum Leader understands it, "BW" was the victim of a grease fire. "NBW" is the veritable phoenix rising from the spicy szechuan ashes of the old restaurant. It is a dive of an eatery - but with a name like "New Big Wong" it just has to be good…
Carry on.