Got nuthin folks
Greetings, loyal minions. Your Maximum Leader is in the midst of a very long brain fart (so to speak). He finds that he occasionally has had an idea about which he might write a post, but it flies from his mind very quickly. He will try and focus on something and write.
Of course, the fact that a squadron of Marine Osprey's has been buzzing over him for two days now doesn't help his concentration. When your Maximum Leader was out yesterday he was able to catch one of the Ospreys on his cell phone.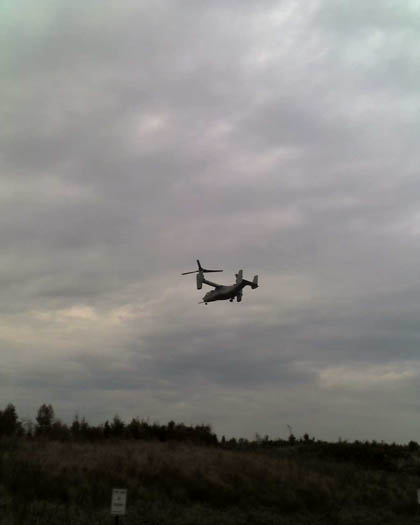 He figures this one was about 250 feet up when the photo was clicked. They seemed to be flying all around at that altitude most of the day. They were a little noisier than he thought they would be… But then again… Your Maximum Leader used to live a few miles away from Oceana Naval Air Station. The Osprey is nuthin' compared to a Navy F-18 taking off with afterburners. So it is all relative.
Carry on.