Hast seen the white whale?
Greetings, loyal minions. Your Maximum Leader laughed at himself for the title of this post. As you surely know, the question in the title is that of Captain Ahab in "Moby Dick." Your Maximum Leader is laughing to himself because whenever he thinks of "Moby Dick" he thinks of a line that he believes is attributed to Gore Vidal who said words to the effect of "'Moby Dick' is the greatest American novel; it's just a shame that Herman Melville was not America's greatest novelist." That always makes your Maximum Leader laugh because it is so true.
Anyhoo…
This post really has nothing to do with "Moby Dick." It has nothing to do with white whales. But it does have to do with another white animal.
The white stag.
According to the news wires, a white stag has been spotted in the wild highlands of Scotland. According to the article:

The rare white stag, from the red deer species, is believed to be among just a tiny handful living in Britain, according to a conservation group.

The John Muir Trust is now keeping the stag's location secret for fear of poachers.

"To see him amongst the other stags was truly thrilling because he does look like a ghost: you do a double-take," Trust Partnership Manager Fran Lockhart, who filmed the stag, told Reuters.

White stags are seen as a magical and powerful force in many mythologies.

The animal's ghostly glow comes from a recessive gene which causes leucism, a condition which reduces the normal brown coloring in hair and skin. They are not albinos, which have red eyes due to lack of pigment.

In Celtic traditions, white stags represent messengers from the afterlife. Arthurian legend has it that the creature can never be caught — King Arthur's pursuit of the animal represents mankind's spiritual quest.

It is also said that for those who set eyes on the animal, a momentous moment is near.
Your Maximum Leader would like to see a white stag in the wild. He would especially like to travel to Scotland to see one. Alas, that doesn't appear to be in the cards. This photo will have to suffice.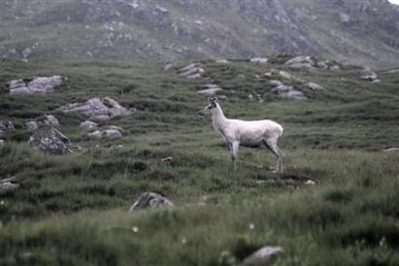 Beautiful animal.
Carry on.