Saturday silliness.
Greetings, loyal minions. Your Maximum Leader, in addition to changing the poll question, decided to have alittle fun with this post. He found a series of questions on the Llama Butchers site, and decided to answer them himself. So, here are:
35 Things
1. WHAT COLOR ARE YOUR BEDROOM WALLS? Chinese Imperial Yellow. Mrs Villain would like them repainted to an off-white or Ivory. And if Mrs. Villain wills it (domestically) it shall be done.
2. WHAT BOOK ARE YOU READING NOW? The 9/11 Commission Report, Alexander Hamilton, Benjamin Franklin, The Art of Love, and Colossus.
3. WHAT'S ON YOUR MOUSE PAD? Myself.
4. FAVORITE BOARD GAME? Toughie. Risk or Monopoly. Love them both. Chess is very good, but your Maximum Leader is quite rusty. He also likes an old Avalon Hill board game based on the battle of Waterloo. It is called Waterloo. He is also fond of a game called "UBI." He believes the Minister of Agriculutre owns a copy. If so, he should play it next time we are together.
5. FAVORITE MAGAZINE? National Review. Your Maximum Leader has subscribed to it since he was 15 years old.
6. FAVORITE SMELL? Napalm in the morning.
7. FAVORITE COLOR? Green.
8. LEAST FAVORITE COLOR? Orange
9. HOW MANY RINGS BEFORE YOUR ANSWERING MACHINE PICKS UP? Answering machine?
10. MOST IMPORTANT MATERIAL THING IN MY LIFE? The Ubercomputer or the Villainmobile.
11. FAVORITE FLAVOR OF ICE CREAM? Vanilla.
12. DO YOU BREAK THE SPEED LIMIT DAILY? Heh. Ask the Minister of Agriculture.
13. DO YOU HAVE A STUFFED ANIMAL IN YOUR ROOM SOMEWHERE? No. Your Maximum Leader requires that the Villainettes store their stuffed animals in their proper place. Mrs. Villain used to keep Teddy Bears in her room. But after we were wed, the bears were banished to another room. Your Maximum Leader does own a stuffed sloth, but it is kept in the Villain, Jr.'s room.
14. STORMS - COOL OR SCARY? Cool.
15. FAVORITE DRINK? Scotch. Scotchy-scotch… Mmm…
16. WHEN IS YOUR BIRTHDAY? June.
17. FAVORITE VEGETABLES? The ones that don't need life support. Oh! You mean the eating kind! In that case: Asparagus, broccoli, potatoes. Your Maximum Leader likes most vegetables in fact. Though he does despise Lima Beans. They are vulgar.
18. IF YOU COULD HAVE ANY JOB, WHAT WOULD IT BE? Humm… If he were not your Maximum Leader, he would want to be Anna's love-slave.
19. IF YOU COULD HAVE ANY COLOR HAIR, WHAT WOULD IT BE? Brown.
20. HAVE YOU EVER BEEN IN LOVE? Yes.
21. TOP THREE FAVORITE MOVIES (IN ORDER)? Can't put them in order. But they are The Lion in Winter, Lawrence of Arabia, and Bridge on the River Kwai.
22. DO YOU TYPE WITH YOUR FINGERS ON THE RIGHT KEYS? If you mean does your Maximum Leader use the familiar "Touch Typing" method. By which he positions his fingers on the "Home Keys" (asdf & jkl;). Yes. He does.
23. WHAT'S UNDER YOUR BED? Nothing. Your Maximum Leader keeps the toe eating monsters in the dungeon.
24. WHAT IS YOUR FAVORITE NUMBER? 15.
25. FAVORITE SPORT TO WATCH ON TV & IN PERSON? On TV - Football. In person -Baseball.
26. WHAT IS YOUR SINGLE BIGGEST FEAR? Villainette #1 growing up and dating.
27. FAVORITE CD OF ALL TIME & RIGHT NOW? Hard to tell. Of all time… Couldn't pick one. Right now your Maximum Leader has been listening to a Tom Jones CD quite a bit.
28. FAVORITE TV SHOW OF ALL TIME & RIGHT NOW? The Simpsons.
29. HAMBURGERS OR HOT DOGS? Hamburgers.
30. THE COOLEST PLACES YOU'VE EVER BEEN? Aiyee! Hard to pick. The Grand Canyon probably.
31. WHAT WALLPAPER AND/OR SCREENSAVER IS ON YOUR COMPUTER RIGHT NOW? Wallpaper is a photo of Mrs. Villain, the Villainettes, and Villain, Jr.
32. DOES MCDONALD'S SKIMP ON YOUR FRIES & DO YOU CARE? They do not. Nor does your Maximum Leader care.
33. FAVORITE CHAIN RESTAURANT(s)? Don't really go to many chain restaurants. (Except when the Villainettes want McDonalds.) Most of the time your Maximum Leader patronizes small/individual establishments.
34. IF YOU HAVE A BOY (OR HAVE ANOTHER BOY) WHAT WOULD YOU NAME HIM? Humm… Don't know. Mrs. Villain and your Maximum Leader come to blows over naming the Villainous progeny. But boys names of which your Maximum Leader are fond include: Angus, Achilles, Richard, Thomas, Robert, Alexander, and Elvis.
35. IF YOU COULD LEARN TO PLAY ONE INSTRUMENT OVERNIGHT, WHAT WOULD IT BE? Piano.
So there are 35 questions answered by your Maximum Leader. Nothing so intelligent as his interview with the Poet Laureate; but you minions might like it.
And in one more flight of silly… Here is something fun courtesy of Dr. Shackleford and J.J. Chandler.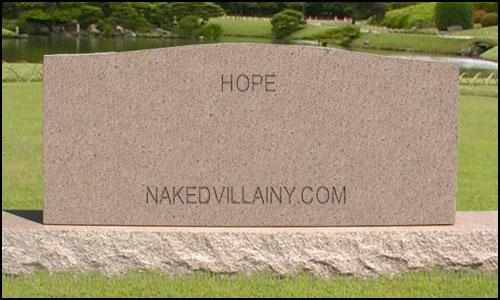 Carry on.