Rejoice!
Greetings, loyal minons. Your Maximum Leader thought he'd have a chance to write Christmas well-wishes on ye olde bloge on Christmas Eve. Sadly, he was overcome by events and is only now getting the chance to sit in front of the computer to type out a post.
Your Maximum Leader hopes that you all had a great Christmas. It was a good Christmas at the Villainschloss. Your Maximum Leader was surrounded by family (his own, his parents, his in-laws and his sister's family). We feasted on roast beast and yorkshire pudding. We had a wide assortment of pies. A great time was had by all.
In the bad news department, Christmas dinner was the first meal that your Maximum Leader prepared in his remodeled kitchen. It did not go off without incident. He did burn the broiled potatoes. (Some of them actually - not the whole batch. His saintly mother-in-law was able to cut of the bad parts on the burnt potatoes.) He also partially burned the second yorkshire pudding. (Again, not badly. But we had fewer crispy pieces as some was stuck to the pan.) The lesson here is that his new oven works better than his old one and he'll have to watch things a little more closely until he figures out the peculiarities of his new oven.
Before Christmas your Maximum Leader went out to the locale cinema and saw "True Grit." By happenstance, Turner Classic Movies showed the John Wayne "True Grit" a few days earlier. The Wayne version of the film didn't stand up as well to a viewing as your Maximum Leader thought it would. He remembers it more fondly than it might deserve. The acting seemed a little forced in the Wayne version and your Maximum Leader got constantly annoyed by Kim Darby (who played Mattie Ross to John Wayne's Rooster Cogburn). On the other hand, the Coen Brothers did a great job on their version of the film. Yes, it was not ironic in any way (like most Coen Brothers works), but it was an adaptation of a great book. Both films have a lot to commend them. Your Maximum Leader, if forced to choose, would likely choose the Coen Brothers' adaptation over the John Wayne vehicle. (Let's face it, True Grit wasn't Wayne's finest role, it was the one they decided to give him the Oscar for since they didn't yet have "lifetime achievement" awards.) Frankly, both films are a great way to pass a few hours.
Lest you think you've escaped a mention of Venice at Christmas, here is the famous porphyry of the Four Tetrarchs found on the side of St. Mark's in Venice: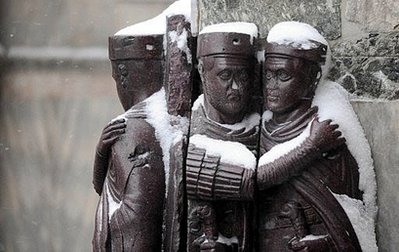 And in keeping with his own tradition, here is "The Adoration" by El Greco:


Carry on.