Dreamy Oscar Viwing
Greetings, loyal minions. Your Maximum Leader, as longtime readers know, is something of a fan of the dreamy Jennifer Love Hewitt. At the risk of offending readers who are looking for more villainy and less dreamy "Love," your Maximum Leader is going to post another photo of the beautiful Miss Hewitt.
Yes, yes. He hears your protestations now. There was a photo of Jennifer Love Hewitt looking particularly dreamy posted here last week. That is true. It was her birthday. This new photo is more recent. It was taking at the Oscar viewing party she hosted out in LA on Sunday. (Alas, your Maximum Leader's invite must have been delayed in the cross-country mail…) So this photo, as it is newer, is better.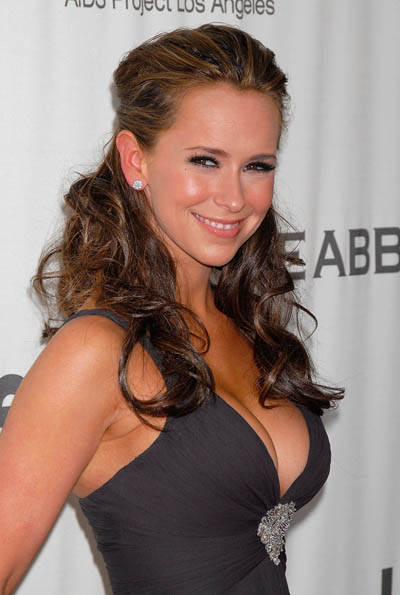 Many thanks to loyal minion Mike L, for pointing your Maximum Leader in the direction of these photos over at Hollywood Tuna.
Carry on.
UPDATE FROM YOUR MAXIMUM LEADER: Stop the presses! The Hanes company has announced that the dreamy Jennifer Love Hewitt will be their new spokeswoman for the new and improved All-Over Comfort Bra with ComfortSoft¬¨?Ü Straps. According to the release:

Hewitt will debut in her first Hanes television ad on March 1 using 15- and 30-second spots where viewers will get a sneak peek into a day in her life at a fictional photo shoot with the actress. As she navigates through a gamut of wardrobe changes, coordinated by stylist-to-the-stars Jessica Paster, Hewitt dons various looks from rocker to romantic, until she decides that even the most fabulous designer dress doesn't look stylish or camera-ready with a bra strap that continuously slips off her shoulder. Hewitt discards the ill-fitting bra, and puts on her Hanes All-Over Comfort Bra with ComfortSoft Straps. Problem resolved - now she is fashionable and comfortable once again.
You know, your Maximum Leader is told that there is nothing more dreamy than Jennifer Love Hewitt in a Hanes All-Over Comfort Bra with ComfortSoft Straps.
Your Maximum Leader now thinks that there might be an official bra of the Mike World Order…
Rest assured, loyal minions. When these ads are available on You Tube, they will be available at Naked Villainy.
Carry on.