Decline and fall of Western Civilization, Pt CLXV
Greetings, loyal minions. Your Maximum Leader sees that there is a photo circulating around Albert Gore's internets that purportedly shows a duck x-ray with a strange anomaly. The photo, sure enough, looks like a duck's x-ray. But in the area of the duck's stomach there is a strange image that appears to be the face of a space alien.
At least this is what is being purported… Yes… The story is that a duck (an injured duck by the way - broken wing you know) ate a space alien…
For your viewing pleasure, here is the photo (courtesy of Yahoo).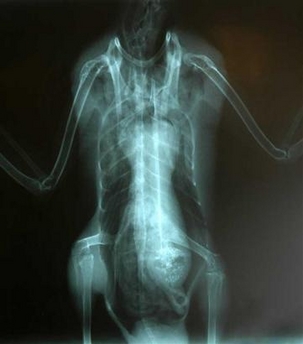 Your Maximum Leader doesn't know what to think about this image and story. But he will share a few stream-of-conciousness ideas on this subject anyho… 1) The duck probably ate some weird seed that caused the image. 2) People are stupid. 3) If the duck really did eat the space alien what should we care - afterall if the alien couldn't defend itself from a (wounded) duck we humans have nothing to fear.
Carry on.