Christmas in Venice
Greetings, loyal minions. Your Maximum Leader has said time and time again here that he isn't sure what the question it, but Venice often comes up as the answer. He continues to have a hankering to go to Venice at Christmas time. Your Maximum Leader blogged last year about a peice he read in the Guardian a few years back that planted the seed of this idea in his mind. Sadly, such a trip is still not in the cards for your Maximum Leader.
Of course, for the past two years the acqua alta has hit Venice at Christmas time. The news wires have been reporting flooding in Venice as rain, snow, and high tides combine for high water over the past few days. Apparently 60% of the city's streets are underwater. The acqua alta this year doesn't seem to be as bad as it was last year at this time.
In the slideshow accompanying the article linked above were a number of pictures showing the high water and people going about life in the high water. But one photo caught your Maximum Leader's eye. Before there was rain and high water, there was snow in Venice. Here is the photo that caught his eye: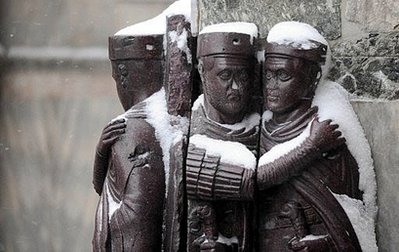 It is a sculpture of the four tetrarchs on the corner of St Mark's covered in snow. Your Maximum Leader knows this sounds strange, but he's known of this sculpture for years and has seen photos of it before. But for some reason he made the incorrect assumption that the peice was inside St. Mark's, not outside. He's now been disabused of that misconception.
Anyhoo…
Your Maximum Leader would still jet off to Venice in a minute if circumstances allowed.
Carry on.