A big night for Washington baseball
Greetings, loyal minions. Your Maximum Leader imagines that you've heard the baseball news out of Washington by now. (That is unless you willfully don't listen to sports news or you live under a rock.) Pitchining phenom Stephen Strasburg is set to debut tonight against the Pittsburgh Pirates at Nationals Park.
Yes, your Maximum Leader has high hopes for Strasburg. He believes that with a little time and maturity he'll be a great pitcher. He's not sure that Strasburg is the second coming of Walter Johnson or anything; but he should be really good.
That is he should be really good in another year or so…
Your Maximum Leader isn't imagining a near-perfect outing for Strasburg tonight. He imagines that the jitters, anxiety and high expectations of a city wanting a winner will have an effect on the young man in his first MLB start.
Prediction?
Nats beat Pirates. Strasburg earns first win but ends with 3.1X ERA.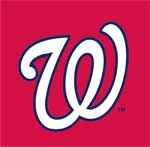 Go Nats!
Carry on.